Apply for Housing Services

In order to gain access to Housing Services you must complete The Housing Registry Form. The purpose of the form is to collect personal information in accordance with section 26(c) of the Freedom of Information and Protection of Privacy Act. Your personal information is collected for the following purposes, and The Housing Registry will use your information to:
• determine eligibility;
• assess housing need; and
• determine the housing developments that suit your needs.
If you have questions about your privacy, call BC Housing's Privacy Officer at 604 433-1711 or send questions in writing to 1701-4555 Kingsway, Burnaby, BC V5H 4V8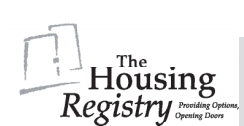 What is The Housing Registry?
The Housing Registry is used by housing providers to review applications as units become available. Housing providers will gather updated information on all household members, including income and assets, and may complete additional checks to assess a household's ability to uphold the obligations of a tenancy agreement. This may include reference checks, personal interviews and/or reviewing information available from public sources such as Court Services Online and police websites. In addition, some housing providers may ask for consent to perform a credit or criminal record check or to obtain information from other private sources.

Apply On-Line for The Housing Registry: